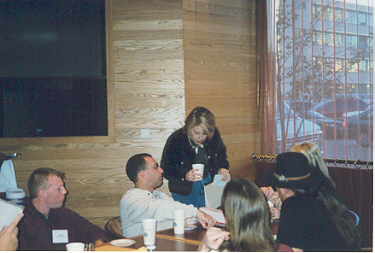 Josh Smith looks on as Jerry Harris gives Kim Heman his order. Betty Cunningham is half hidden by Tracy Ford's hat, and we see the back of Scott Hartman.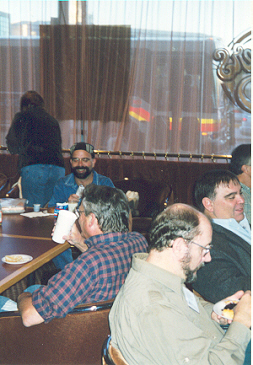 Luis Rey eyes Dan Varner's drink as Mike Brett-Surman is amazed by Ralph Chapman's Triceratops stories.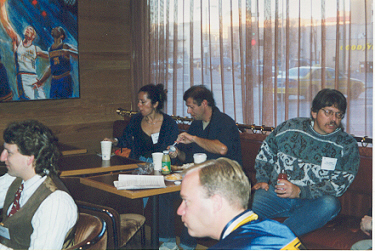 Tom Holtz, Carmen Rey, Mark Kap, Jim Kirkland, with John Hutchinson in the foreground.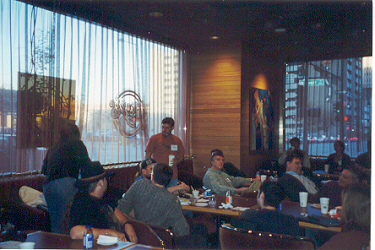 Tracy Ford, Kim Heman, Darren Naish, Luis Rey, Tom Lipka, Jim Norton, Ralph Chapman, Dan Varner, Scott Hartman's back, Pete Buchholz' back.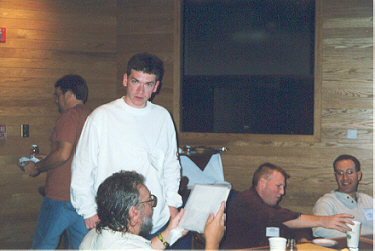 Tom Lipka clears dishes in the background, while Jaime Headden warily gets George Olshevsky's autograph and Josh Smith steals Jerry Harris' drink.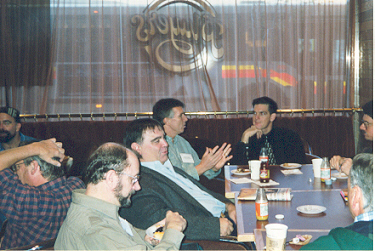 Dan Varner protects himself from falling objets d'art, while Mike Brett-Surman carefully considers Ralph Chapman's morphometric breakfast. Jim Norton shows Scott Sampson how big a dinosaur is. We also see half of Larry Witmer and the back of Art Andersen.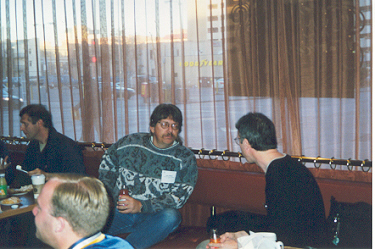 Mark Kap eats while Jim Kirkland tells Thom Holmes all about Gastonia. John Hutchinson continues to be upfront.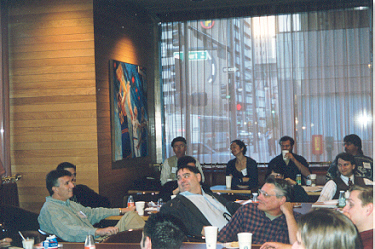 (From left, clockwise) Jim Norton, half of Scott Sampson, Dick Peirce, Carmen Rey, Mark Kap, Jim Kirkland, Tom Holtz, Jonathan Wagner, part of Scott Hartman, Dan Varner, Ralph Chapman, and a sliver of Larry Witmer.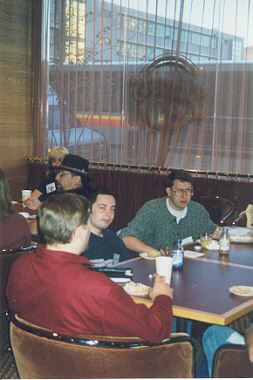 Betty Cunningham sits at the corner table with Tracy Ford and the back (again) of Scott Hartman. Jonathan Wagner reaches for his drink before Pete Buchholz can grab it. Darren Naish senses that a giant horseshoe crab is clinging to the window behind him.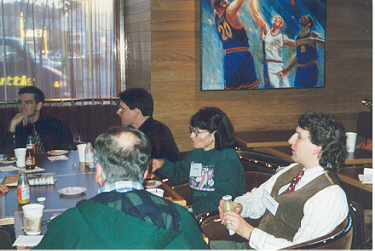 Scott Sampson, Larry Witmer, and Lois McMillan agree with Tom Holtz' theropod theories, and we again see Art Andersen's back.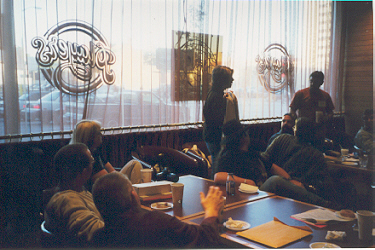 Recognizable in the dim light are Josh Smith, reaching for Jerry Harris' drink, Jerry Harris, Betty Cunningham, Kim Heman, Luis Rey and Tom Lipka.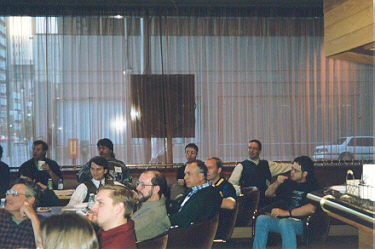 (From left corner) Dan Varner, Mark Kap, Tom Holtz, Jim Kirkland, Tom Holmes, Ilja Nieuwlind, Michael Skrepnick, John Hutchinson, Art Andersen, Mike Brett-Surman, Jonathan Wagner, and part of Scott Hartman.